Introduction of my Honest Descript Reviews
Sometimes you want to change the audio in a video or podcast. You could rerecord the video or podcast, but that would be hard. You could delete the video or podcast and record a new one, but that would take a long time.
Now imagine changing the sound in your videos or podcasts without rerecording more videos or deleting mistakes by hand. Yes! Now by editing text using a word document like text editor, you can edit sound. Oh, life would be so much simpler!
There is an application called Descript. It can edit audio recordings. It is very easy to use. You can cut, paste, copy, and otherwise edit the audio. It is like editing a document.
Personally, I like the realistic-sounding voices, the large selection of voices, and the ability to change the pitch and speed of each voice. I also like the male and female options. The fact that you can copy and paste large amounts of text at one time to edit is also a plus. However, the learning curve can be a bit much, and there aren't enough tutorials that get right to the point because the other products sound unrealistic and robotic. I've literally tried about a half dozen of them.
This descript review will explore why this video and podcast editing application is getting so much HYPE. Many people keep asking, is descript trustworthy? Is descript good for video editing? I am trying to answer those queries in this article. I'll demonstrate why it's a great addition to the toolbox of bloggers, YouTubers, and podcasters alike.
What is Descript and What is the purpose of Descript?
Descript is a free podcasting application that can be used to create, edit, publish, and manage podcasts. It is both user-friendly and powerful, with features for both beginner and advanced users. You can start your podcast in under ten minutes. Whether you are looking for an automated system or are very hands-on, Descript is one of the best applications on the market today!
Descript can help you create a podcast without any technical knowledge. It is an audio editor that works like a word document and makes podcasting easy. You can easily import audio files with Descript and even edit them with a stable internet connection. It also works like an audiogram. It can import your cover art and help you create a personalized podcast recording. This will be a valuable tool for those who produce their own audio.
The best part of this platform, Descript works with MAC, Windows, and cloud.
Descript is a timer saver.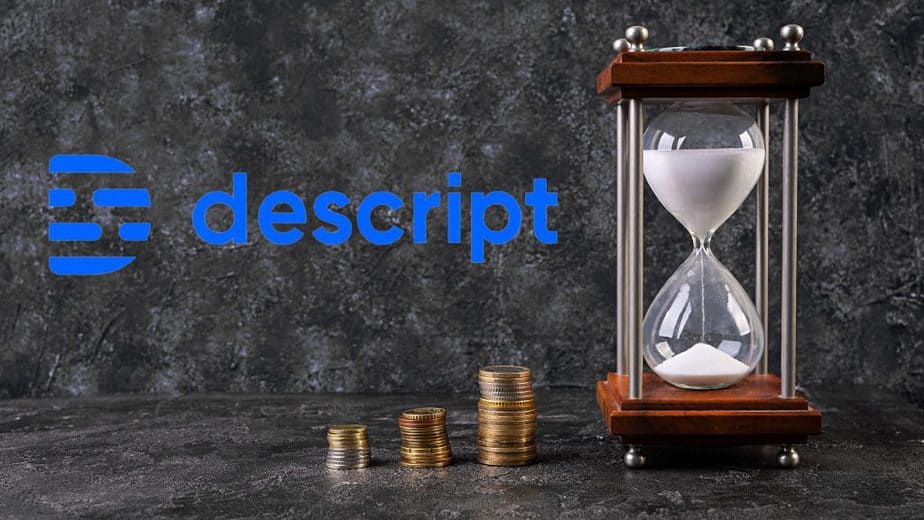 Descript will detect filler words in your writing. Save time on editing by deleting all garbage filler words at once! It also helps you create a podcast intro and outro without any hassle. Your listeners will appreciate the production value that you've put into your podcast.
Descript Review: How Descript Saves You Time and Money
Descript automatically transcribes your speech, and if you mispronounce the word, you can edit it by modifying the transcribed text alone. Imagine you have recorded your video, but when you watch it back, you've said something wrong or left something out. Typically, you'd have to rerecord the whole thing again, but this is no longer an issue with overdubbing. You can type in the missing words into the text box, and Descript will generate cloned audio to replay based on what you've written!
I believe this feature is one of the most exciting things I've seen in years. It shows how creative Descript's team is and how we are starting to see many more new innovative ideas that bring incredible value to people like me, you, the customers. This AI copywriting tool seems mind-blowing, but it works out great! It allows us to create content for next to nothing – really ingenious quickly!
Descript Transcription Review
If you're not familiar with DESCRIPT, it's a purpose-built platform that lets you edit audio content like a blog post. It has an easy-to-use interface, and it allows you to collaborate with others in the same project. It can also help you edit and transcribe the audio in real-time. This feature allows you to create a podcast that meets your own unique standards.
Descript has many features that can help you make a quality podcast. The software enables you to use stock voices for your podcasts and even add new narration. It offers eight different stock voices created by professional voice actors. You can use these voices for any project you may have. Once you've found a voice you like, add it to the project.
You can also insert music and sound effects or add additional speakers.
Once you've finished recording your episode, export it to Descript. You can then import it into other platforms and start publishing. You can also use audiograms and captioned videos to give listeners an idea of what you're talking about. Publishing your podcast is easy with Descript. You click the 'Publish' button above the transcript. Once you've finished recording your podcast, you can export it to other applications like Castos.
If you're using Descript to create podcasts, you'll be able to import your pre-recorded audio. Unlike traditional podcasting software, a Digital Audio Workstation(DAW) is designed to intimidate the novice. Beginners have little time to learn other DAW software, but DESCRIPT makes recording audio as simple as working with text. You'll be able to make a podcast in no time.
Descript's studio sound feature eliminates the need for a recording studio. The script-based editor gives you a minimum and full effect suite, including reverb, noise removal, and room tone. The full suite also includes auto-leveling and ducking. These features will help you capture the sound in any environment. Use the Descript app and click the "publish" button when you're ready to publish.
How Much Does Descript Cost? Is Descript Free?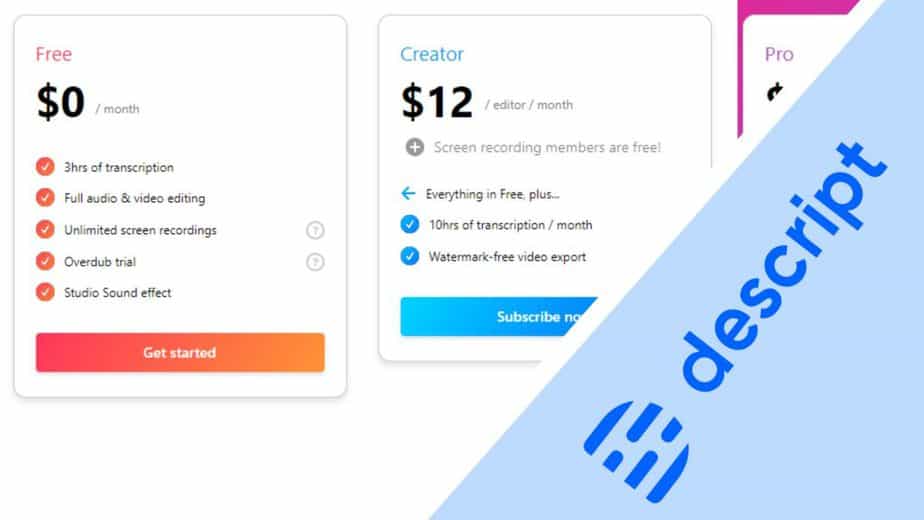 Descript is a desktop app for audio and video editor recordings. It's free to use for seven days and is a great way to get started. The free version allows you to create only one project, and it only has a limited number of features. Paid plans have more advanced features. They also include unlimited projects and transcriptions. If you're a podcasting beginner, you can create a podcast in minutes.
Descript Pricing Structure
Free: Recording software allows you to take the necessary steps towards making your thoughts into visual bits that can be shared with many other people. Not only that, but it also gives you the power to edit and mix the project as well. Depending on your needs, specific software will try to deliver features like higher quality recordings called full HD which will usually take up more space (but SD recording is available). This version allows you to record, mix, and edit a single project. And, You can make up to 20 screen recordings, and you get 3 hours of transcription.
Creator: If you pay $12 a month, you get everything in the Free plan. You also get 10 hours of transcription per month, unlimited screen recordings, timeline export, and export using original assets. This means that as long as your files were exported from Descript and can be shared outside of it, you'll be able to put them on any platform.
Pro: If you pay $24 a month, you'll get all in Creator, Filler Words remover, Overdub, Publish Pro, Audiograms, 30 hours of transcription per month, and batch file export.
Enterprise: If you think their plans look a bit overwhelming and you aren't sure how to fit it all in, you can also pick up the phone and call them to discuss it. Their representatives will go through each of your options with you. These include Dedicated Account Manager, Master Service Agreement, Security Review, Enhanced Usage Limits, and Advanced Sharing Controls.
You can improve transcription accuracy by paying an additional $2 fee. This is often the case with software vendors, and if you purchase a long-term package, you can save up to 20% over a year.
Is there a Trial package available for Descript?
Descript provides something for everyone – do you want content creators, SEO, or online marketers to use this new functionality? If you would like to test it out on your site first, click here to receive a free 7-day trial Descript Pro.
Descript Features – Powerful editing tools in a clean and straightforward interface
New project in the descript app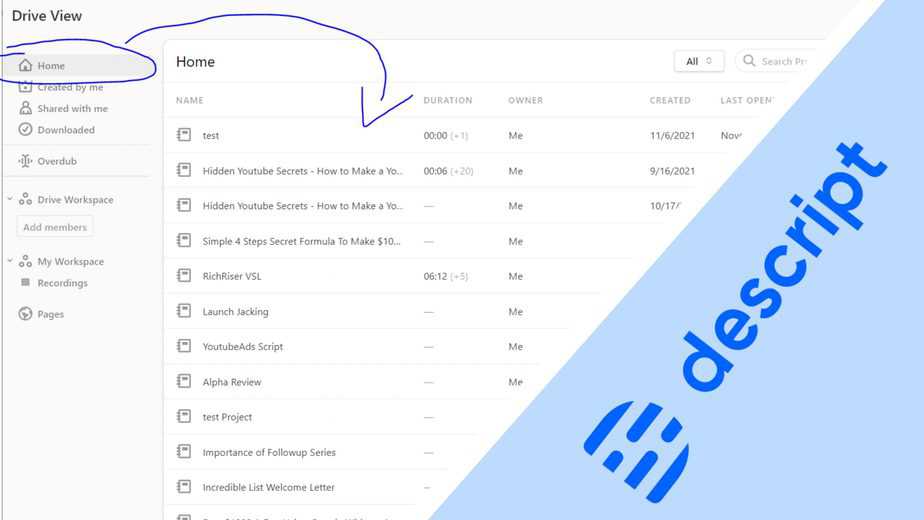 Project Browser
When you launch Descript, you first see the Project browser, located on the top left corner of your screen. Here, you can access all of your podcast or audio files accessible through a drop-down menu. Each episode you create is a project, and it can contain any combination of audio files, sound effects, or musical compositions.
Publishing Your Podcast
Descript allows you to publish sound files directly to Twitter or Buzzsprout. You can choose the file format and bitrate and decide whether you want it posted as audio-only, text-only, video-only, an audiogram, and more!
Publish and Export Options
What if you don't use Buzzsprout? You have to export audio or video files and upload them to the media host of your choice. However, there are plans to partner with several providers in the future, which will make it easier for users!
Create audiograms using descript
Audiograms permit you to create clips of your episode representing and including the sounds from a corresponding video presentation section. This feature is an excellent option for podcast content because it allows viewers to listen to an audiobook version while watching a visual representation of the same content!
Check out an audiogram sample here,
Audiogram Sample
where creator Nagudharan highlights relevant text, so listeners get acquainted with Nagu's niche in one fell swoop. Clicking "Publish" will drop the text from your composition directly into your audiogram, so it's available for your listeners during playback!
Descript overdub feature
Photo Credit help.descript.com
Overdub works with your own voice. Overdub is free on all Descript accounts. If you want to use it on multiple projects, consider upgrading to a Pro account, which includes unlimited vocabulary.
Overdub is a valuable feature that helps you make your podcasts and video clips better. It is easy to use and makes publishing easy. With overdub, you can make quick corrections and edit your audio with ease. You can even add inline notes to your recordings.
Fancy Captions
Photo credit help.descript.com
Having a video to accompany a blog entry – for example, an instructional video – has been proven to boost your SEO. And also, the apparent benefits that it brings those who don't understand what languages you speak or those with hearing impairment.
Descript gives you a choice to add fancy captions were previously transcribed audio will appear on the video. You can add backgrounds and shapes thistle make your video presentable. Also, as a podcaster, you can create audiograms. With this, your audio and fancy captions are played over a static image. It's a great way to repurpose this content for platforms such as Instagram and Youtube too.
Cloud Sync & Multi-User Collaboration
Descript's first key feature is that it works on both tablets and the cloud. Although the editing options are only available through the downloaded app, you can still view this app online for free.
Descript is a powerful and intuitive podcast edit platform that makes it easy to use the latest modern tech – particularly cloud storage options. Saving your text, images, and videos of assets into the cloud means that you can access them anywhere, on any device of your choice. It also makes collaborating with other writers simple by allowing you to sync your work with others on the Descript platform, leave comments on each others projects.
Descript sidebar
Photo Credit help.descript.com
With the new Project Sidebar, you'll be able to search for, and open compositions and your project files directly inside the software. Now you can compile everything into folders and filter by file prototype or name. The Project Sidebar comes in handy when you want to quickly open a file in a new window, copy parts from it, or make changes before returning to your main Composition page.
Descript timeline editor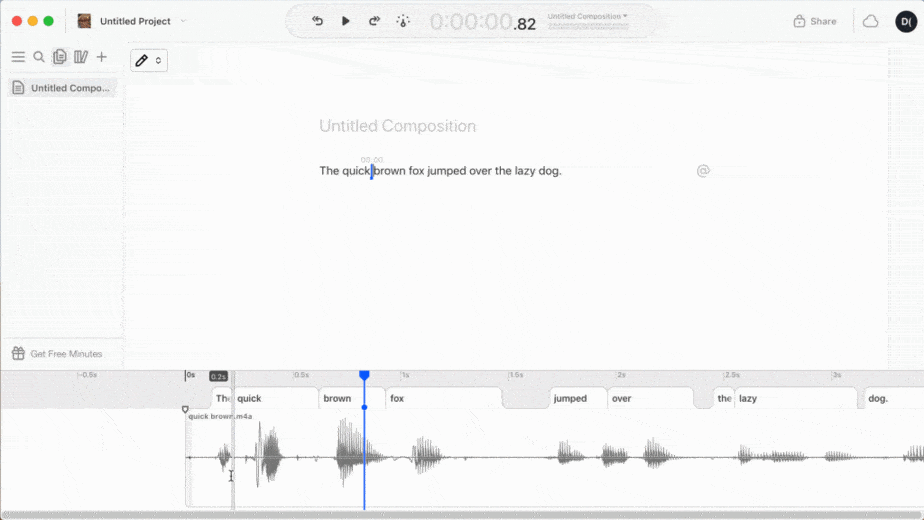 Photo credit help.descript.com
The Timeline Editor in Descript is a powerful tool for fine-tuning your audio edits. It is convenient for making progressive changes to the timing of your script-based dialog. The Waveform Editor shows you an audio waveform for your script, which means it is helpful if you want to measure the edit distance between two points (e.g., the start and end of a line or the first and last syllable in a word). It also shows you your script text as it would appear if viewed through a script-based audio editor.
Descript filler words removal ums and aas
Photo credit help.descript.com
Descript's AI-powered Filler Words removal tool makes it possible to remove filler words like "um" and "uh" from an audio recording with just a single click. This can be more efficient than doing this manually, even more, efficient than using other DAWs more suited for transcription purposes. Descript will scan the converted transcript of your recording and automatically filter out unnecessary filler words so that you can leave them behind without ever having to lift another finger again!
Descript also allows you to search for any filler word or phrase, like "you know," and delete every instance of that word or phrase.
Descript mic selection
Photo credit help.descript.com
To record your project into Descript, hook up your USB or XLR mic the same way you would record into any computer. Once connected, click on the microphone button at the top of the screen and choose an input under 'Recording & Input Options' (your mic should be listed as an option).
There are many different ways to record the voices of people who are currently not in the same room. Depending on what your needs are, it can be done without too much effort. If you're recording with a mac, you could choose your own mic as the "Track 1" input with "Computer Audio" connected to "Track 2." You'll be able to automatically import this remote voice into Descript as its own track, transcribe it, and label it appropriately.
Descript FAQs
Who owns descript?
Detour is the parent company of Descript. Descript Inc was formed as a new company to take care of the Descript software to improve the business and software.
Also, as I mentioned earlier, a Descript-free plan is available. You may access it forever free with limited access. However, under the Creator/Pro plans, anyone can screen record for free, and only the editors require licensing.
Which Price Plan Is Best For Me?
If you need to transcribe longer recordings and create multiple videos using different equipment for each, the Pro plan works perfectly. The Pro plan is worth spending a few dollars more if your content isn't solely text-based and requires the convenience of advanced editing services.
With the Enhanced Usage Limits, you can store up to 10x more audio per month, or 4x more time for audio transcription. This will allow you to record, save, and share audio more often.
You can try Descript Pro for free here.
Is Descript Slow To Transcribe?
It is pretty fast. – if you need to save time and don't worry too much about spelling or minor mistakes, screen recording can be a great option as the audio translates as you record your screen. If, however, you wish to use a professional transcription service and you would like it done within a specific period (such as overnight), then prepare to pay extra for the timely assistance.
Is descript legit?
Yes, it is. Descript is a fantastic tool that has changed my life. I don't need to spend hours researching, scripting, recording, editing, uploading, publishing all my podcast episodes anymore. I can spend more time creating better content instead of doing endless tasks.
How accurate is descript transcription?
Automatic speech recognition (ASR) is a service that automatically transcribes voice to text. ASR is an automated process that requires the person speaking to be recorded or to type in what they want to say.
Descript is an automated speech-to-text program. It is an online service that automatically transcribes voice to text using Google's same technology for its search engine. This technology is pretty accurate but has some limitations. The principal limit is that it requires that the person speaking has a great deal of confidence before starting to speak.
If the speaker is nervous when speaking, the transcription is much more likely to contain errors. Another limitation is when there is music playing in the background. The software cannot usually hear the speaker well enough to transcribe accurately when this is the case. Another limitation is when many people are speaking at the same time.
This is because computers are very good at counting but not very good at distinguishing what is being said. If there are too many people talking simultaneously, the computer will often mix up what is being said.
What is the best transcription software for mac?
Transcribe is free software for Mac. It is an excellent piece of software and is ideal for transcription. There are other options as well, which you can use from the web store.
Has Anyone Actually Used Descript?
Why not. A lot of podcasters use Descript. I created my first audiobook and published it on Audible.com. People have bought the same. You may take this as a Descript real user review.
My Audiobook fully created in Descript
Play See this audiobook sample audio on audible.com
Summary
I've worked with dozens of software reviews over the years, and every now and then, one can stand out from the crowd. Descript is one of that software. It's straightforward to use and, therefore, a prevalent audio edit platform among audio creators. Still, Descript also has several drawbacks that you should be aware of before making a purchase.
I can tell that the Overdub feature is a constructive way to concentrate the mind on content and let my head go into a different place. Sometimes it helps me relax without realizing that I've been sitting with a pen in my hand, listening attentively for hours. It's not been easy picking up new craft skills from mainly auditory training sessions, but I'm glad I pushed through this one.
This app is suitable for journalists, lawyers, doctors, or people in similar professions who need to record and transcribe a lot of dialogue in real-time. A voice recorder like this can be handy when recording events (and if you're concerned about the sound quality).
When constructing a podcast, your main focus is to capture the spoken words. This is a good tool for you. And it's surprisingly good for creating audiobooks. For example, if you're an author or publisher who needs to convert written content into audio format, this should be considered.
It's great because it catches the essence of what you're trying to say while filling in some of the natural blanks depending on which voice was chosen for your voiceover performance. The voices are pretty believable too, but obviously, they won't come off exactly like living humans.
I believe this descript review has given you a fair idea about this software. Now it's time to get wet your feet on it. You can try Descript Pro for free here.
Descript Alternatives
There are many different types of video & podcast editing tools out there. Which should you choose?
We tried many tools and ultimately landed on a few that stand out as the best alternatives to Descript : (Note: These reviews also apply to the paid versions of these tools.)
If you're looking for a transcription service, we recommend Transcribe Me. This service from Transcribe Media is the only one we found that offers unlimited online access with no contracts or recurring payments. It's also the only one that transcribes transcripts into text with the human touch, which saves users time.
Several video editing applications, but options like Camtasia, Filmora, and Adobe Premiere are top-rated for more traditional video editing. We tried out a couple of these and found them very capable, but we also liked the more straightforward, single platform approach you get with InVideo.
Podcasters frequently look to tools like Audacity or Adobe audition for their needs. This audio editing software is an excellent solution and a little more challenging to use than Camtasia, but it can be compelling.
Audition, for example, is an excellent tool that can allow you to sync up music to video footage or export your podcast to other audio formats. Suppose you want your audio file transcribing, then you have apps like Otter AI or outstanding services like Rev.com.
But Descript is different. It's a unique blend of all of these, and I think that's where it shines.